MPS Engineers' experience ranges from earth moving to suit site grading and drainage plans to construction of flood control structures. We are conversant with the some of the stringent earth moving regulatory requirements such as US Army Corp of Engineers specifications and quality controls and sediment control requirements by EPA and Department of Natural Resources.
Range of our services
Earthmoving per site grading plans
Levees and flood control structure construction
Storm water management structures.
Available Equipment
Excavators
Bulldowers
Skid loaders
Dump Trucks
Graders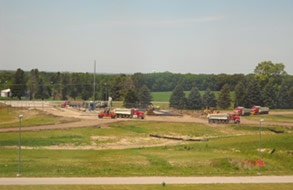 Representative Clients
US Department of Agriculture
US Army Corp of Engineers
Des West Moines
City of Johnston